Tuesday January 14
7:30 PM
A Heads-up View of Urban Stream Ecology
MCZ 101, 26 Oxford Street, Harvard University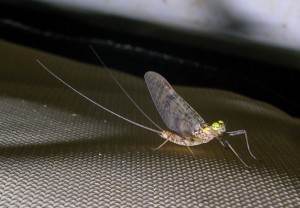 Human activities in the watershed and direct alterations to the stream channel can alter the habitat and water quality experienced by fauna living in a stream. Thus, studies examining stream communities along an urbanization gradient typically focus on the links between watershed land-use and in-stream conditions. However, stream organisms are not confined to a single stretch of stream throughout their life. Fish have the ability to disperse long distance through the stream network, and flying insects can disperse long distances across the landscape, unconstrained by the stream network.
Using a combination of field studies and GIS, Dr Smith, from University of Massachusetts Amherst, investigated how dispersal (a regional process) affects patterns of stream biodiversity along a gradient of human influence. His research suggests that human land use across the landscape may impede dispersal and both local (watershed based) and regional (dispersal based) processes are important for controlling community structure in urbanized streams. The mechanisms for how human activities alter regional processes differ between taxa and are related to species life history traits. These findings have important implications for conservation and restoration strategies as well as developing land-use development plans that promote the sustainability of stream ecosystems.
The talk is free and open to the public. The meeting is readily accessible via public transportation. Parking is available in the Oxford Street Garage with advance arrangement, as described here, or (usually but not always) at spaces on nearby streets. Everyone is also welcome to join us for dinner before the talk (beginning at 6:00 PM) at the Cambridge Common, at 1667 Massachusetts Ave.
CEC meetings are held the second Tuesday of the month from October through May. The evening schedule typically includes an informal dinner (6:00 to 7:15 PM) followed by our formal meeting (7:30 – 9:00 PM). The latter begins with club business and is followed by a 50 minute entomology related presentation. Membership is open to amateur and professional entomologists.